What is SMC?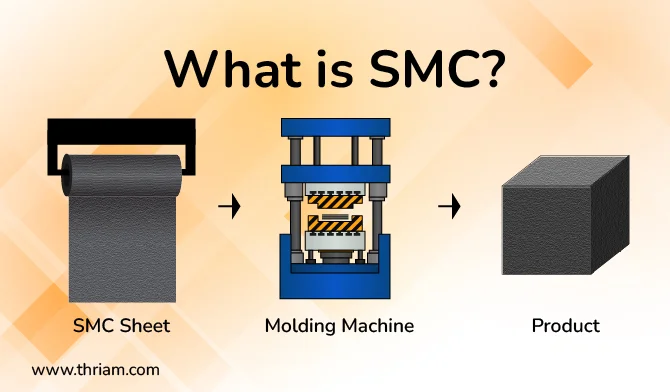 SMC is a flat sheet-like compound manufactured by spreading long strands of chopped glass fiber & under-saturated polyester/phenolic/vinyl & acrylic modified resins to produce a high-strength moulding compound. SMC material is used in the compression moulding process. SMCs are generally used to mould parts in complex shapes. This thermoset material is suitable for making automotive parts, high-strength electrical parts, corrosion resistance needs, and various structural components because of its outstanding capabilities, surface appearance, and electrical insulation. SMC is normally supplied in rolls, which are split into smaller pieces called "charges". Compression moulding is a procedure that uses heat and pressure to create anything from basic shapes to complex mould products.
Compression moulding is a manufacturing process in which a pre-determined amount of moulding materials are pre-heated and compressed into the desired form using two heated mould cavities. It is a high-volume, high-pressure moulding technique for complicated, high-strength fibreglass reinforcements. Thermoset composites are the most common type of material used in compression moulding & SMC is a thermoset material. It has the advantage of being able to mould large, fairly complex parts. Furthermore, when compared to other moulding methods such as transfer moulding and injection moulding, it is one of the least expensive; additionally, it wastes relatively less material, giving it an advantage when working with expensive compounds. Manufacturers who are used to working with metal parts will find it very simple to convert a metal object into a compression moulding part.
Process of making SMC sheet
Step 1. Paste Reservoir releases a measured amount of specified resin paste onto a plastic carrier film.
Step 2. This Film passes under a chopper which cuts the fiber (Glass fiber/carbon fiber) onto the surface.
Step 3. Once these have moved to the depth of the resin paste another sheet is added on top of the fiber like a sandwich.
Step 4. Later these sheets are firmly pressed together and then stored in a form of a roll at a pre-determined thickness.
Step 5. Then these sheets are allowed to mature for 48 hours.
Advantages of SMC
SMC is lightweight when compared to other materials from metal to BMC (Bulk Moulding Compound).
Being light in weight does not make SMC weak. It is robust, long-lasting & resistant at high speed.
While metals & minerals get easily corroded in acids & sea water, SMC is chemical corrosion resistant.
SMC is a flame retardant material. To achieve a high flame retardancy several additives can be added.
There is low emission of toxic smoke or hazardous gas from SMC.
SMC also outperforms other materials in terms of electrical strength, water absorption, and surface resistance.
The thermal stress is much more compact than that of metal.
The service life of SMC is more than other materials.
The simple process of SMC helps to produce in large quantities in a very short period.
Manufacturers can save money as there is minimum labour cost & less wastage.
Composites offer a high strength-to-weight ratio, which results in improved performance, easier installation, and better product transport, as well as lower environmental impact and fuel emissions.
Applications
The rising cost of cast metals is pressuring manufacturers to consider alternate materials of metal. As thermoset components have very unique properties-exceptional strength, lightweight, corrosion resistance, exceptional thermal properties, and electrical non-conductance it makes them more desirable over other materials available. The sheet moulding compound (SMC) market report analyses the growth, which is currently growing due to the above-mentioned reasons.
Here are some fields of application:
Electrical & Electronics :
Electrical connector
Circuit breaker
Motor parts
Electric switchgear
Electrical insulator parts
Electrical junction boxes
Satellites Aerials / Dish Antennas
Automotive :
Air Deflectors & Spoilers
Frames for windows/sunroofs
Air-intake manifolds
Front-end grill opening panels
Battery casings and covers
Headlamp housings
Bumpers & Bumper beam
Heat shields (engine, transmission)
Cylinder head (e.g. valve, rocker, cam) covers
Pillars (e.g. 'A' and 'C') and coverings
Appliances :
Cabinets & Storage Boxes
Kitchen Sinks
Oven end-panels
Cutters
Housing & Cooling Coil Drip pans in HAVC products, such as room air conditioners
Lids
Building & Construction :
Door Skins
Fencing
Water Tanks
Window Panels
Basins & Bath Tubs
Dust Bins
Roofing
Energy :
Roof tiles for Thin Film installations.
Housings for solar structures for heating liquids in pipe systems.
Small Turbine Blades
Blade Hub
Turbine Housing
Pad Type Or Portable Type Power Generators
Wastewater :
Lids
Weir
Plates
Control Valves
Plumbing Flanges
Manhole Covers
Transportation :
Train / Tram interior & body parts
Third rail insulators
Third rail canopies
Contactors
Traction motor brush holders
Medical Devices :
Instrumentation covers, bases, and components
Standard and contagious/biohazard trash cans and receptacles
X-ray film containers ment
Dental medication systems
Antibacterial components
Surgery equipment
Conclusion
Only mentioning a few of the properties of SMC demonstrates its unique standing as a high-performance, inexpensive - highly lucrative material class with great future possibilities.