The Search Begins: Join Our Team as an SEO Professional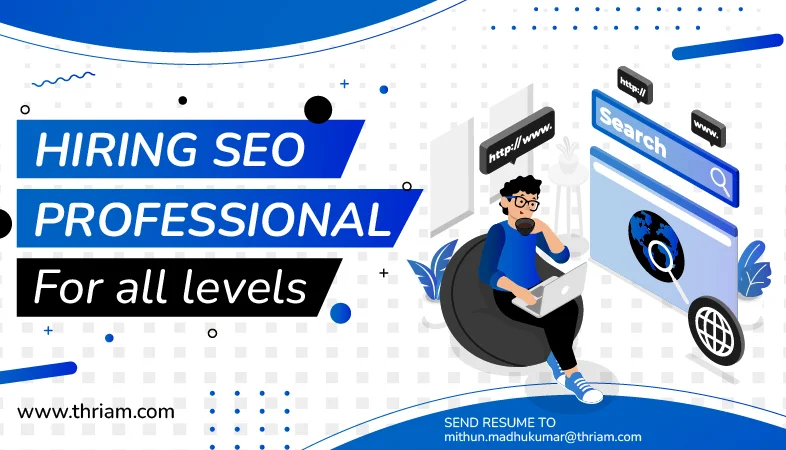 Introduction:
At Thriam, we understand the importance of having a strong online presence in today's digital age. That's why we are looking to expand our team with SEO professionals at all levels. If you have a passion for all things SEO and want to be part of an innovative and dynamic company, this could be the opportunity you've been waiting for.
Why Join Our Team?
Exciting Challenges: As an SEO professional, you will be entrusted with the task of improving our website's visibility in search engine results. With constantly changing algorithms and new strategies emerging, you will constantly face exciting challenges that will push you to learn and grow.
Collaborative Environment: Join a team of creative individuals who share a common goal: to make our online presence stand out. You will have the opportunity to collaborate with various departments, such as content creators, web developers, and marketing strategists, to implement effective SEO techniques.
Continuous Learning: We believe in investing in our employees' growth. As an SEO professional, you will have access to the latest trends and tools in the industry. You will be encouraged to attend conferences, workshops, and webinars to stay ahead of the game.
Work-Life Balance: We understand that a healthy work-life balance is essential for our employees' well-being. We offer flexible working hours and remote work options to ensure you can achieve the balance that suits your lifestyle.
Competitive Compensation: Along with a competitive salary, we offer comprehensive benefits packages that include healthcare, retirement plans, and performance-based bonuses.
Why Join Our Team?
Entry-Level: We welcome fresh graduates or individuals with minimal SEO experience. A solid understanding of website analytics tools, basic keyword research techniques, and familiarity with SEO best practices is required.
Mid-Level: Ideal for professionals with 2-4 years of experience in SEO. Proficient in on-page and off-page optimization, keyword analysis, and content strategy. Experience with SEO reporting tools and the ability to handle multiple projects simultaneously is a plus.
Senior-Level: For seasoned professionals with a proven track record of success in managing SEO campaigns. Deep knowledge of technical SEO, website audits, and solid experience in driving organic traffic. Demonstrated ability to lead a team and develop SEO strategies for complex projects.
How to Apply
If you're ready to take on the challenge and become an SEO professional at Thriam, please submit your resume, a cover letter outlining your relevant experience, and any portfolio or case studies demonstrating your SEO achievements. You can send your application to mithun.madhukumar@thriam.com
Don't miss this opportunity to join an inclusive and forward-thinking company that values innovation, teamwork, and personal growth. Take the first step towards an exciting career in SEO by applying today!
We look forward to hearing from you.
Thriam Team
Mumbai
Visit our website to learn more about us
www.thriam.com